And for our next birthday, we have Olivia! Our youngest turns twenty-four today. I am not sure how I can have a child that age, but I do. She is a gem and we love it when she and hubby come home to visit. Last night they got here late with a loaded sleigh. All of a sudden the house felt alive with Christmas anticipation as they put gifts under our Charlie Brown tree and then sat and caught up on life with us. Their arrival made it feel like the holidays are actually here.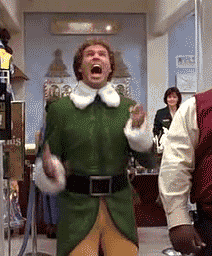 What does that look like for you as we go into the weekend? What do you need to do to get your Christmas game on? Last night was a wake-up alert for me to get my mind off all things work, organizing, and unpacking. I want to see and feel the joy around me and celebrate it with family and friends.
I used to be so confused as to why I felt so dead inside during the holidays. When I was feeling something at all I would think to myself maybe this is as good as it gets?
I was so wrong, it got so much better. The longer I was sober, and no longer numbing with alcohol, life and all the joy I should feel became a real thing. You shouldn't have to work for Joy, right? So don't do something that totally works against you, like drinking.
It's not easy but I promise you its worth it and all the hard work it takes to get to this beautiful place of grace. I can think of no other more fitting time to appreciate what God has done for me and you than Christmas. He sent his son, to be born in a manger, to live to die. Now that's a sacrifice.
Merry Christmas and peace and blessings on the weekend,
Sherry
PS This is one of my favorite real moments captured of Liv right before she said I do. Needed a little Subway to keep going. True Hoppen indeed!